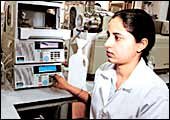 Ranbaxy's patent challenges: US is the real battleground
On October 12 when the UK court of justice upheld the exclusivity of one of Pfizer's patents on Lipitor (basic compound: Atorvastatin), it also ruled that a second patent covering the calcium salt (atorvastatin calcium), described in technical jargon as an enantiomer patent, was invalid. While the verdict, appealed against by both Pfizer and Ranbaxy for their respective loss, took steam off the Indian company's stock, analysts on Dalal Street are beginning to focus on other enantiomer patent challenges. Specifically, Dr Reddy's Labs (along with Apotex of Canada) has challenged Sanofi's enantiomer patent on anti-stroke drug Plavix, while Cipla (besides Ivax) has challenged a similar patent held by Forest Laboratories over its anti-depression drug, Lexapro. Trials in the Plavix case start end of this year, while Lexapro hearings start April next. Together, they represent $4 billion (Rs 18,000 crore) in opportunity for the generic drug manufacturers.
Pharma analysts feel that Ranbaxy's enantiomer win in the UK could have a favourable impact in the US, where a ruling on the Lipitor case is expected end of this year. Ranbaxy has already got a favourable ruling in Austria for the Lipitor challenge and there is speculation that it could score similar wins in other European markets like Spain, Finland and Denmark, which together account for $500 million (Rs 2,250 crore) of Lipitor sales. If Ranbaxy wins only the enantiomer patent in the US it will still get marketing exclusivity for six months in 2010, when Pfizer's patent expires. And in those six months, analysts feel Ranbaxy could rake in some $600 million (Rs 2,700 crore) in profits from its generic copy of Lipitor.
---
Q&A
"Consumer Values Are In A State Of Flux"
Her business card describes her company as one 'Delivering better futures'. But as Chief Executive of WPP's Henley Centre, a consumer marketing consultant, Sian Davies keeps an eye on global consumers. She spoke to BT's Shailesh Dobhal.
What are the emerging consumer trends globally?
Broadly, there are four things happening. First, consumer values are in a flux-consumers are questioning what is right, wrong, what does happiness mean. Second, the rise of the super-consumer-consumers are aware that they have the power of choice and they exercise it. Third, there is this really interesting trend of responsible youth, more focussed on being well educated, working hard and environmental issues. Lastly, there is a heightened focus on well-being with consumers globally.
How are global brands using these insights?
In a number of ways. One key area is innovation. For example, Unilever is embracing the concept of vitality, and that influences how it develops food products and some of its personal care products.
How has new media impacted consumer behaviour?
Our research shows that digital media is changing brand choices. It is encouraging people to switch and buy a brand that is different to the one they would have bought otherwise. Cellphones are making people's lives more fluid and flexible, 'liquid lives' as we call it-there is a lot less planned shopping and a lot more spontaneity to their lives.
How will responsible consumers impact brands?
Although some brands have begun to respond, consumer attitudes are ahead of where most brands are currently. This is manifesting in declining levels of trust in big corporate brands. So, companies are increasingly tracking social attitudes and trying to figure out what that means for their marketing strategies. CSR is now the job of the marketer.
---
Staying Invested In India
Banks are scrambling for a piece of IMD redemptions.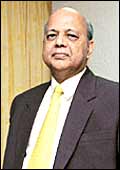 SBI's A.K. Purwar: Netting IMD share
Come December, and domestic bankers will slug it out on foreign shores to get a piece of the Rs 37,000-crore India Millennium Deposit (IMD), which is due for redemption by the year-end. IMD issuer, the State Bank of India (SBI), itself is expected to corner 20-30 per cent of the proceeds, while others like the Life Insurance Corporation of India (LIC) and ICICI Bank have got into the act too. "LIC's Bahrain subsidiary is awaiting approval for a new product to tap IMD redemption holders, since the Gulf is a big market," says the corporation's Chairman, A.K. Shukla. ICICI Bank has increased deposit rates for FCNR and NRE accounts by 0.13 per cent to 0.16 per cent. As the redemption nears, there'll be more financial institutions joining the fray.
---
Biotech's New Model
An NRI's start-up plans to play the middleman.

Actis' Saxena: In-licensing pays
In the US, Sanjeev Saxena has been a bit of a serial entrepreneur. He's founded or co-founded a contract research and manufacturing firm, a technology marketing firm and a medical devices firm. In his new role as the co-founder, Chairman & CEO of Actis Biologics, a California-based biopharmaceuticals start-up, Saxena is trying to be an industry middleman of sorts. Actis' business model depends on in-licensing promising molecules and then partnering with Indian drug companies to take them through clinical trials. "We will utilise the cost advantage and patient pool in India, which will make it easier to put more products rapidly into the market," says Saxena. Actis has in-licensed four molecules and plans to set up joint ventures in India for their development, with the JV getting rights for India and semi-regulated markets. Saxena also plans to invest Rs 60 crore in India for setting up a subsidiary to carry out clinical trials and manufacturing of its cancer drugs.
---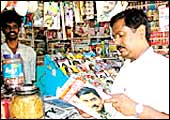 It's about money, honey: He gets it
Nanayam Vikatan, Ungal Panam, Thozhil Kattumanam Munnetran and Trichy Business Magnet are just a few of the dozen or so business and personal finance magazines that have sprung up in Tamil Nadu in just the past one year. Although most of them are in Tamil and don't have a fixed periodicity (that depends on enough ads coming in), readers-especially in smaller cities-are lapping them up. "Business magazines with predictable monthly periodicity have a little more than a lakh in circulation,'' says K. Jayakrishnan, owner-editor of Valar Thozhil. The bigger political Tamil dailies have spotted the opportunity too. Last year, Dina Thanthi started offering business pages in association with The Economic Times. Its circulation jumped from 7 lakh to 8 lakh, and the newspaper suspects the business pages may have had a hand in it. What's more, big-ticket advertisers like General Motors, the TVS Group and L&T have started advertising in Tamil business magazines, prompting some of the beneficiaries like Thozhil Ulagam to increase pages and go colour. Even so, "only 10 per cent of the potential business readers in Tamil have been reached", reckons R. Vijayakumar of Thozil Ulagam.
---
Finally, Here Comes Vodafone
The world's best-known mobile telco enters India with a 10 per cent stake in Bharti.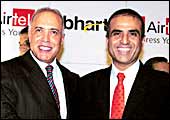 Ringing in: Vodafone's Sarin (L) with Bharti's Mittal
Vodafone group CEO Arun Sarin usually travels by commercial airlines (he doesn't like to waste money). His latest trip to India, however, is a last-minute thing and he charters an aircraft to arrive in Delhi on the night of October 27. On the morning of October 28, he makes a trip to Prime Minister Manmohan Singh's office along with Bharti Tele-Ventures (BTVL) CEO Sunil Mittal. At a function in London last year, Singh had asked Sarin when Vodafone was investing in India. Without a preamble, Singh asks the question again, and the India-born CEO of Vodafone is ready with an answer. "Now." Soon after that quick meeting with the PM, Sarin and Mittal rush to the Belvedere Club at The Oberoi, a hotel just a couple of kms away. At 11 a.m., the two sign a historic deal that allows Vodafone to pick up an effective stake of 10 per cent in BTVL, India's largest mobile services provider, for $1.5 billion or Rs 6,750 crore (Rs 351 a share). Warburg Pincus, a large private equity player and an early investor in Bharti, exits completely by selling out its last remaining 5.65 per cent stake (Its total take: a profit of $1.6 billion on an investment of $300 million, invested over three tranches from 1999 to 2002, where at the end the private equity investor had a peak stake of 18.52 per cent). The Mittal family sells shares in the privately-held Bharti Enterprises to Vodafone giving it an effective 4.4 per cent holding in BTVL and taking its total stake to 10 per cent.
The deal is India's single largest foreign investment till date. It marks the second coming of Vodafone, the world's largest telecommunications company with presence in 27 countries and 165 million subscribers, to the world's second fastest growing telecom market after China. Vodafone had exited Chennai-circle operator RPG Cellular in 2003 since that investment did not give the company a pan-India presence. Besides, the Indian policy environment was not conducive. That changed in the last week of October, when 74 per cent foreign investment in telcos was okayed.
The dalliance between Mittal and Sarin is believed to have started only a few months ago. "Bharti is a large company with 15 million customers. If we need to take the company to the next level, we need new skills (where Vodafone fits in)," says Mittal. "The reason we looked at Bharti is that it's a large national player (present in all 23 circles) and also because of its entrepreneurial DNA," says Sarin. He admits that Vodafone was approached by other Indian telcos willing to sell (or sell-out), but refuses to take names.
It is unlikely that Vodafone will be happy with just a 10 per cent stake (although, in China Mobile, Vodafone holds only less than 3 per cent). "Yes, we would like to have a larger share. But we are happy with the current 10 per cent stake," says Sarin. Mittal says he has no plans of diluting any more of his holding, but the buzz is that he and his family may be willing to do so down the road, if the price is right. SingTel, which has a 30.84 per cent stake in BTVL, could also be a willing seller (it has, after all, allowed Vodafone a toe-hold).
---
RPG's Retail Revamp
The business gets broken up into four distinct formats.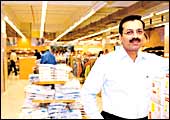 RPG Retail's Goenka: Trying hard to make up for lost time
Nearly five months after Sanjiv Goenka's RPG retail parted ways with Dairy Farm International, it has unveiled a new blueprint for growth. Under the reorganisation, all of RPG's retail businesses (except MusicWorld) will be brought under the Spencer's umbrella and split into four distinct formats: A small (about 2,000 square feet) fruits-and-veggies only store; a bigger food store with produce but also staples, processed foods, FMCGs, and bakery; a chain of convenience stores that will be spread over 10,000-15,000 sq. ft each and in addition to produce, staples and FMCGs offer garments, liquor and general merchandise. Finally, there will be the hypermarket, which will be destination stores spread over 35,000-55,000 sq. ft and offer not only everything that the three smaller formats do, but also houseware, white goods and electronics. "It's a more focussed, more defined and a more aggressive roadmap to grow exponentially in size and margin, because we now realise that size does matter," says Goenka.
RPG is looking at upping its retail floor area from 4.4 lakh sq. ft currently to 46 lakh sq. ft and revenues from Rs 400 crore to a whopping Rs 5,000 crore by 2008-09. According to Goenka's rough estimates, the group will have about 60 hypermarkets and supermarkets, and 270 MusicWorld stores by the end of the decade. Spencer's recently opened its first hypermarket in Sahibabad near Delhi, and seven more hypermarkets/supermarkets are expected to be opened in and around Delhi over the next several months. Simultaneously, RPG, which plans an IPO next year, will be opening 12 new stores in Kolkata, besides a few in Pune, Aurangabad and Vizag. Goenka's belated alacrity is easily explained. Although his erstwhile FoodWorld chain was the first to kick off 11 years ago, he's ceded the retail czar status to newcomer Kishore Biyani of Pantaloon.
---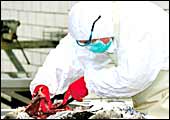 Talking Tamiflu: Will India rake-off?
It's a potential goldmine, but most Indian companies aren't sure if they will be able to tap into it. We are talking about Tamiflu, the anti-influenza drug that will be needed in millions of units should there be an avian flu outbreak in the world. Currently, patent-holder Roche is the only manufacturer of the drug and governments around the world are worried about a potential short supply. Therefore, compulsory licensing (or letting other drug companies manufacture Tamiflu) may be introduced to cope with a sudden surge in demand. Ironically, Indian drug companies aren't sure if this will mean big business. "This is not driven by a profit motive," says D.G. Shah, Director General, Indian Pharmaceutical Alliance. Adds Amar Lulla, Jt Managing Director, Cipla: "It is also a complex process and expensive, so not very attractive commercially." For instance, one of the chemicals used in the drug is potentially explosive, besides which the price of shikimic acid, a key ingredient, has shot up from $40 (Rs 1,800) a kilo three months ago to $700 (Rs 31,500) a kilo now. But fortunately for Indian consumers, Cipla, Ranbaxy and Hetero Drugs have plans of making the drug.