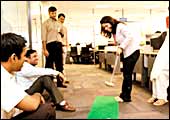 Game of faith: As its employees have testified, it's all fair play at Sapient
In 2003, Infosys technologies, which had emerged the best company to work for in India in the 2001 and 2002 editions of Business Today's survey, did not figure in the list of 25 companies that this magazine profiled as best employers. Reason? A dismal performance in the internal employee perception survey brought about by a variety of factors (largely, the company's decision to moderate its increments in line with market trends).
Employee surveys help companies understand the degree of employee engagement, satisfaction and commitment. If done well, they are good lead indicators of employee behaviour and, therefore, of company performance. They serve to pinpoint specific areas of concern and facilitate organisational change. The employee perception feedback sought as part of the study is based on a next-generation Mercer diagnostic tool that seeks not only to assess how satisfied and engaged employees are at a point in time, but also to understand the drivers of satisfaction and engagement in order to predict and model employee behaviour. This instrument elicited employee feedback on some of the critical aspects of organisational success such as transparency, quality of work life, leadership, employee development, and alignment between organisational objectives and individual aspirations. The instrument also sought feedback on two direct aspects reflective of people management practices in an organisation, the hr processes and the hr function.
INTERNAL EMPLOYEE
PERCEPTION SURVEY


Quadrant Weightage: 35%

THE TOP 10

1

Sapient

2

HCL Comnet

3

HDFC Bank

4

Sasken

5

NTPC

6

JISCO

7

Aspire Systems

8

Covansys

9

Genpact

10

JK Corp.
The companies that have done well in this quadrant attained a score point average higher than 80 per cent, indicating that a large percentage of the employees in these organisations perceive them to be providing a strong mix of leadership guidance, work life quality, development focus and transparency. Their own goals are perceived as synergistic to the business objectives and their aspirations are being met through a vibrant, communicative and transparent work culture.
The best companies to work for boast a high degree of employee engagement resulting from strong and consistent communication of company vision, performance and challenges. Employees in these companies seem to share the company's values and generally came across as wanting long-term careers in the companies they work for. One of the strongest testaments of these companies as good organisations to work for comes in the form of positive feedback on the leadership. The best companies to work for also place strong emphasis on the quality of work life, be it benefits, resources to do the job, support infrastructure, access to information, a collaborative work environment, a sense of fair-play, or respect for diversity.
Another consistent feature that emerges from the analysis of employee responses is the need for improvement in the hr processes as they are perceived by the users. This includes performance differentiation, training processes and compensation levels. Employees across companies also have an expectation of the role of the hr function to be more employee-driven and the need for the function to develop greater consultative skills.
Employee perception, as any seasoned hr professional will tell you, is fickle; it is a function of what the last year's increments were like, what the grapevine is buzzing with, what leadership changes are in the offing and other such. Best employers manage to develop an environment of trust that ensures that these mood swings stay within acceptable limits.
---
QUADRANT-2
The Method To the Madness
Good HR is no longer about having one's heart in the right place.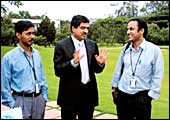 Infosys CEO Nandan Nilekani: He knows what expectations they have
The effectiveness of hr as a strategic partner to businesses depends on its ability to articulate a vision that is aligned with and drawn from that of the organisation as well as its ability to put in place processes aimed at translating the vision into reality. Too many hr functions are still seen as "the place to go to handle people problems" as opposed to the part of the organisation that develops policies, information and tools that allow managers to manage their people effectively. The core issue here is of blurred ownership and inefficient service delivery. This must be driven by the CEO and the entire leadership team. Reviews of hr processes involve an assessment of their current state of play and a plan aimed at making them world class. In carrying out such reviews, management must bear in mind the changing profile of the internal customer. Employees are today more ambitious and self-directed, impatient to achieve. They also have much wider career opportunities. Our review of the hr processes and policies of the participating companies was carried out keeping the above expectations of employees in mind. We spent time understanding the strategic underpinnings of the hr processes in these companies, the extent to which the processes were integrated amongst themselves as well as with other processes within the company, their maturity relative to the industry in which the company operated, and last but not least their effectiveness.
ANALYSIS OF HR
PROCESS & POLICIES
Quadrant Weightage: 30%
THE TOP 10

1

Infosys

2

NTPC

2

HCL Comnet

2

HSBC

2

Sasken

2

Covansys

2

Genpact

2

Sapient

3

MindTree

3

Eli Lilly

3

HDFC Bank
* The list comprises top companies on the quadrant. The count of companies is more than 10 as a number of them have received the same score on the quadrant
The companies that have done well in this quadrant have managed to build and drive hr processes customised to their hr vision. While there is no one size that fits all, some common points that make these processes different are:
Linkage to business: hr processes are anchored strongly in the overall business strategy. In many cases, hr strategies are at the forefront of business strategy.
The employee: The employee is at the heart of the processes. Most policies are driven by employee expectation and feedback.
Technology: Technology is playing an important role in driving hr service delivery. Some companies have managed to mount most of their process on integrated technology platforms designed in-house and customised to their needs, while others have used technology to reduce administrative load on the function.
Transparency: One of the refreshing features of the review this year has been a higher degree of transparency surrounding hr. Much more information than before is now in the hands of the employees. And the information is not restricted to hr policies and systems. It covers business strategy and performance, financial and operating results and the competitive scenario.
That said, there is still some distance to go even for the best companies. The review has brought into focus the need for a greater emphasis on career management and in managing employee expectations.
---
QUADRANT-3
That Intangible Thing
Or why it is important to build a best-employer brand.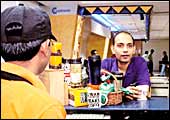 The right mix: GE or no GE, Genpact makes for great work culture perception
Reputations are painstakingly built and quickly destroyed, but their importance can never be underestimated. A positive employer brand can be a way of differentiating one organisation from another and of creating a strong, distinctive and attractive identity with which current and potential employees can identify. Employers are beginning to recognise that in order to create a strong employer brand, it is essential to develop good people policies and to communicate these externally as well as internally.
The stakeholder perception quadrant seeks to evaluate the degree of success that an organisation has achieved in managing to communicate this brand promise to key constituents of its internal and external labour market. This perception of the stakeholders was elicited through a dipstick study designed to analyse the perceptions of four key constituents of the labour market of a company: new hires, alumni, the major sources of talent namely the campuses, and search firms.
The companies that have done well in this quadrant have all managed to build and communicate a strong brand identity to their stakeholders. Their new hires feel that the promise made to them at the time of hiring has been fulfilled and their transition into the company has been supported by smooth induction processes. They also feel strongly that they would recommend the company to their peers. The alumni of these companies try to recreate the company's culture in their current environments and have fond memories of their former employer. The recruitment campuses indicate that the people processes in the companies that form part of this list are strong and the company provides good learning opportunities to students. The search firms have a positive image of these organisations as good employers in their industry segments and feel that employees of these companies are sought after.
STAKEHOLDER PERCEPTION SURVEY




Quadrant Weightage: 20%

THE TOP 10

1

Genpact

2

Sasken

3

Infosys

4

HSBC

5

Sapient

6

HDFC Bank

7

Covansys

8

MindTree

9

Ranbaxy

10

NTPC
These positive messages notwithstanding, this quadrant has not seen as strong a performance by many of the companies listed above, suggesting that even the best companies have a long way to go in building a sustainable employer brand. They need to work hard to improve their "employment value proposition".
The key to effective employer brand communication, both internally and externally, is authenticity and credibility. In their desperation to hire, companies at times exaggerate their value proposition or make commitments that they know they cannot keep. New hires quickly become disillusioned and join the swelling ranks of the cynics within. A branded product scores over an unbranded one in its implicit commitment to quality, reliability, safety and performance. It is no different with the employer brand. The brand will lose its lustre if it does not deliver on its promise. Employers would do well to heed this lesson and also recognise that this is one of the most volatile indicators of success and it will take a regular and conscious initiative to sustain it.
---
QUADRANT-4
Measure For Measure
Soft-discipline HR has now discovered a surfeit of hard measures.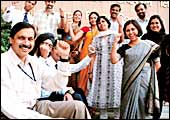 Power play: Number crunching is NTPC's forte. We're not surprised
HR is often accused of not aligning its strategy with that of the larger organisation. And its inability to define measures of performance aligned to the company's means that at times, it is relegated to the sidelines or marginalised in discussions concerning business strategy and performance.
In response, hr often takes to measurement with a crusader's zeal. Then, measurement-fundamentalism only leads to measurement overload. Companies drown in an ocean of performance measures. The essential is lost in a clutter of seemingly sophisticated but utterly irrelevant metrics. Good measurement systems seek to measure the salient rather than the many. In distinguishing the relevant from the nice-to-have, wise managers are guided by how well or poorly the measure is aligned to what the company wants to achieve-in other words, by strategic coherence. They are also aware that a performance measurement system is only as good as the infrastructure and systems that support it.
In the analysis of the companies on this quadrant, we drew heavily on the world-renowned Saratoga Institute's experience in measuring hr effectiveness. The performance of the companies was evaluated on a variety of determinants of effectiveness and people focus, including investments in people and people processes, career velocity, development spend and effectiveness, attrition and diversity.
ANALYSIS OF HR METRICS


Quadrant Weightage: 15%
THE TOP 10

1

NTPC

2

Infosys

2

HCL Comnet

2

HSBC

2

Ranbaxy

3

Sasken

3

Covansys

3

Mindtree

3

Sterlite Industries

4

Genpact

4

HDFC Bank

4

JSW Steel

4

JK Corp
* The list comprises top companies on the quadrant. The count of companies is more than 10 as a number of them have received the same score on the quadrant.
The companies that have done well in the hr metrics quadrant are those that have demonstrated success across most of the measures. Thus, they have managed attrition not only through compensation but through investments in training and development, charting career paths and intense communication. Equally importantly, many of these companies seem to be actively courting diversity, recognising its importance to achieving and sustaining high performance.
The essence of success in this quadrant is a company's ability to drive hr investments. Most companies that figure in this list tend to provide their employees with high career velocity. They have also been able to demonstrate significant robustness in their employee development focus through greater investment in training, significant utilisation of their training budgets and higher frequency of training opportunities. The longer career tenure of management level employees is indicative of commitment and loyalty of the workforce as well as enhanced job security on offer by employers.
The results have been calibrated keeping in view the relative complexity and differences in the people management agenda across industries. For example, it would not be fair to compare attrition in the high-turnover it-enabled services sector to that in the public sector environment where employee retention is as yet not an issue of significance.
While discussing hr metrics, one of the important points to remember is that many hr functions in the country do not as yet have a strong metrics-driven approach to tracking and evaluating their effectiveness. This is an area on which companies need to start focussing if they are to articulate their contribution to their company's strategy and gain recognition as business partners.