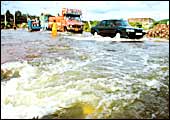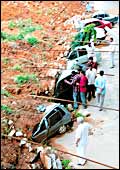 Watershed: The boundary wall of an apartment building caves in, while the road above turns into a waterway
BANGALORE
Monday October 24, Tuesday October 25, Wednesday October 26
I wake up to a flooded Bangalore. The rain began to fall on Saturday morning, just over 36 hours after Infosys Chairman and Chief Mentor N.R. Narayana Murthy resigned as chairman of the Bangalore International Airport Limited following a spat of sorts with Janata Dal (S) leader and former Prime Minister H.D. Deve Gowda, who calls the shots in the JD(S)-Congress alliance that rules the state of Karnataka and has turned a blind eye to the infrastructural requirements of a city that is spoken of as Asia's it-hub in corner rooms in California. The ostensible reason for this is the loss former Chief Minister S.M. Krishna's Congress Party suffered in the 2004 elections, forcing it to form a coalition government with the JD(S). The loss, one school of thought goes, was because Krishna focussed his energies on Bangalore to the exclusion of all else. Other reasons for the alliance's apathy to Bangalore's infrastructure range from Deve Gowda's long-running battle with Krishna and his alleged hatred for Infosys Technologies, Bangalore's best-known technology firm whose leadership was perceived as being close to the former Chief Minister to conspiracy theories about Infosys' Murthy speaking slightingly of Gowda at a public meeting.
Naïve souls may have felt the heavens had opened up as a sign of protest; not this reporter (to be a good one you have to be fashionably cynical). The rain intensified on Sunday; by that evening most parts of Bangalore were flooded. Monday morning, and the rain shows no sign of letting up. Most it companies in the city were closed over the weekend; I wonder what they will do today (I wonder about this at two levels; a generic one, and a specific one; I have a meeting scheduled at Infosys' campus in Electronics City).
A few hours later, and the meeting has been cancelled. Driving is almost impossible. So, I wade through knee-deep water praying as I do that my feet don't discover a manhole or encounter something wriggly that has been displaced because of the rains and snare an auto-rickshaw. I want to go to Hosur Road, specifically the Silk Board junction near it, through which some 50,000 software pros pass every day. Five roads intersect at this junction, as does a flyover that seems to end just at the wrong spot and, the place is usually gridlocked with 17,000 passenger car units that ferry everyone from call centre employees and code jocks to machine operators and textile workers.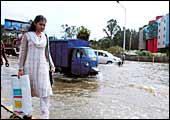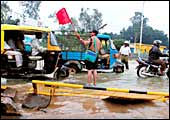 Pitfalls: Cops steer vehicles clear of manholes, while the otherwise busy Silk Board Junction (above) is awash
We don't make it there. A harried traffic policeman blocks our way and says there is enough traffic already piled up at the junction. He's right; the road is flooded with rainwater, sewage, and assorted muck of the sort that rises to the surface every time it rains heavily. The only vehicles that can ford this stretch are buses and SUVs; then, that's if they can get through traffic (some cars spend around five hours at the spot). I wade through knee-deep water for a closer look (indeed, wading through knee-deep water is one of my themes for the day) and discover that watching vehicles attempt the 'great crossing' had become something of a spectator sport, with passers-by taking up vantage positions on the flyover or on adjoining buildings to get a ringside view of the chaos.
Swaminathan Krishnan, Chief Marketing Officer at Sasken, later tells me that just 40 people managed to make it to the company's facility on Hosur Road (of a total strength of 150 at this location). Nandan Nilekani, CEO, Infosys, decides to work out of the company's office in the tony borough (you wouldn't describe it so if you see the state of roads there) of Koramangala after he finds all roads leading to the company's campus in Electronics City packed with traffic. Call centres find their shifts delayed; companies like Wipro, Aztec and Datacons find some of their facilities flooded (Aztec's CEO V. Chandrasekharan tells me that the company has had to source food and water from its other facilities for those employees who managed to make it to the campus, only to be stranded there). At Bidadi, on Bangalore's outskirts, Japanese carmaker Toyota finds its shift delayed by at least 30 minutes as workers end up taking a roundabout way to the factory.
For a city that has seen its population almost double over the last decade to over 7.2 million today, Bangalore's supporting infrastructure has failed to keep pace. A fellow journalist calls me up to tell me that cm Dharam Singh's cavalcade has had to give the flooded locality of Bommasandra a miss after beleaguered residents blocked the road to get his attention about their locality's woes. It is unlikely that their measures are going to have much effect. "You bet the city's reputation around the world's been affected by all this," says Nilekani.
P.S: On Wednesday, Gowda addresses a meeting of it honchos, BangaloreIT.in, and tells them that since Bangalore is choked, everyone should look at Hassan (his home-town) and other smaller towns in Karnataka. Actually, they'll look without.