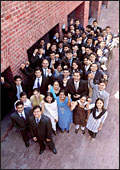 India's Best B-schools
IIM Ahmedabad stays rock solid at #1, but there are plenty of gainers and losers in this year's survey. More importantly, the overall infrastructure
at a B-school, its quality of
placements and faculty mattered
even more to our survey
respondents, comprising
recruiters, MBA wannabes, MBA students, young executives,
and function heads. Presenting the only
customer-focussed survey of B-schools
in the country.


IIM-A: The Brand Is It
What makes Indian Institute of Management
Ahmedabad the country's best B-school year
after unrelenting year? How about brand image?
Read More
The 'We-Try-Harder' School
At 28, Pune's Symbiosis Institute of Business
Management (SIBM) has emerged one of India's
best B-schools. And it is also the sometimes-reluctant
head of a growing family.
Read More