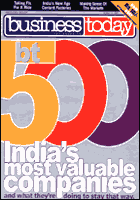 Jewels Of India Inc.
For corporates, the past year has been anything but easy. First, the internet bubble continued to burst, taking down with it telecom and software stocks. Then, old economy companies—slammed by poor consumer demand—found themselves staring into the abyss of a recession. The result: The BT 500's top 10 companies lost a staggering Rs 40,000 crore in market value over 1999-2000. Was shareholder value lost? No doubt. Will shareholder value be regained? No doubt, again.

The BT-500 Methodology
It's no rocket science, but pure (and lots of) number crunching. So, we let our able partner in the project, CMIE, do that, while BT's reporters focused on helping you make sense of the numbers.

The BT-500 In Picture
A snapshot of the top losers and gainers, sectoral stars, multinational fortunes, and how value multiples differ across the spectrum. Plus, stock valuations that beat us, and how the BT-500 top 10 fared in the first half of 2001-02. You'll be surprised.

The BT-500 List
Here's a feast for the numbers hungry. The complete BT-500 companies, including everything that you wanted to know about your stock—its rankings sliced every which way—but didn't know who to ask.

India's Most Valuable Companies 1 to 100
India's Most Valuable Companies 101 to 200
India's Most Valuable Companies 201 to 300
India's Most Valuable Companies 301 to 400
India's Most Valuable Companies 401 to 500
(Note: These are PDF files. You need to have Adobe Acrobat Reader to view them. If you don't have one, download it now.)
Editorial
A Beginning Has Been Made
Features
The Great FI Heist
Lax regulations, industry-politics nexus, and sheer mismanagement have brought India's great lending institutions to the brink of a financial disaster. If their mountain-load of bad loans implodes, the economy will be staring at its worst crisis ever.
Trends
Leader: Making Sense Of The Market
Truckin: 6 Wheels, 40 Tonnes, And An IQ 120+
Contrariety: The Cost Of Infinite Justice
China Syndrome: Wheelin' Dragon
Personal Finance
Women And Money
What do successful women do with their money? Of course, spend, but then they make smart investments too.
Investment Alert
With the outlook on the Sensex uncertain and ignored bullion suddenly looking attractive, investors may feel the need to shuffle, shuffle, shuffle.
BT dot.com
Cover Story
Life in the dotcom content factories is like a new economy fool's tale: All content and no substance. To find a new meaning, content providers are looking offline.
What's Hot
Not sex, but Nostradamus, CNN, World Trade Center and, of course, Osama bin Laden. Plus, Indian insurers get (not the flu) but handhelds.
Case Game
The Case of Troubled Diversification
Having invested expensive debt into new projects given to overruns, Peekay Steels must now find a way out of the interest squeeze to ensure survival. A.K. Sengupta of SPJIMR, S. Biswas of Accenture, and V. Sett of Hughes Telecom debate on Peekay's way ahead. A discuss. Send us your solution which scrutinises the problems in companies like yours. We'll showcase the best solutions on-line.
Managing
Unkind Cut
Demotions and pay cuts rear their ugly head in corporate India. Desperate employees have no choice but to stay put.
Back Of The Book
Wine To Dine For
Mating Indian foods with wine is fast becoming every Indian's favourite gourmet game.
Plus: Treadmill
Careers Today
Careers Today
Help, Tarun!!!
Columns
Business Revival By Pradeep Chanda
Legal Counselling By Diljeet Titus
Leadership Secrets By Sanjay Jain