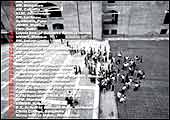 India's Best
B-schools
Here are the latest findings. India's very best B-schools, as thrown up by the BT ACNielsen ORG-Marg study.


A Straight A
What makes IIM-A dominate the rankings? Brand power is no small part of the explanation. more...
The Rankings
Here's the complete scorecard, with all the data on the B-schools, sliced and diced. more...
Playing Catch-up
Symbiosis, JBIMS, and FMS are considered top-tier B-schools, but they still want to do one better. more...
Young Turk
The Loyola Institute of Business Administration doesn't roll off the tongues of non-Chennai MBA aspirants. Big mistake. more...
The MBA Factory
Let's face it. Most of India's graduate colleges, whether specialised or general, have become factories to feed the country's B-schools. more...